Elevation: 8,383 ft
Prominence: 443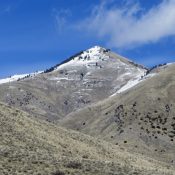 This peak is not in the book. The initial peak description and route is by Margo Mandella. Livingston Douglas added the two new routes set out below Margo's original post. Updated December 2019
---
Peak 8383 is an attractive peak in the Jumpoff Peak subrange of the Lost River Range. Located west of the Idaho National Laboratory and due south of Howe Peak, Peak 8383 and its peak neighbors, Peak 7194 and Peak 6990, make a good, early-season peak bagging loop. We climbed these three peaks on March 29, 2018. This climb was a "Plan C" for us, as we underestimated the snow levels for two other climbs farther west. Thus, we had little time and cell signal to figure out the approach, camping, and route for these three peaks. USGS Howe Peak
Access
Take Bureau of Land Management (BLM) Road 1259/Deadman Canyon Road, which leaves the west side of ID-22 along Deadman Flats, toward Deadman Canyon. This road is open all year. After heading north a bit, the road takes a large, long turn to the northwest. Along this curve, a jeep trail intersects the road from the north. This trail parallels an intermittent stream, but there are no pullouts for parking. Sagebrush is thick and turning around is difficult but doable in only a few locations. We were able to travel as far as the worst ruts, but most people probably won't want to travel much past the junction of the jeep trail with Deadman Canyon Road.
Note: A recent rain-on-snow event made travel difficult without a high-clearance 4WD vehicle starting in the lower Deadman Flats area. Even with a high-clearance 4WD vehicle, we were stopped short of where we wanted to go on both roads we traveled.
Camping is allowed anywhere on BLM-managed public land. However, this area is thick with sagebrush and is heavily grazed. The only flat, sagebrush-free spot suitable for camping was at the junction of Deadman Canyon road and the jeep trail heading north (i.e., the previously mentioned intersection). It was a great spot to camp in March, but probably not so great once the cows and people are out later in the year.
---
West Ridge, Class 2
From our camp, we saw a lot of the approach for Peak 8383. We didn't realize until later that we could see both Peak 7194 and Peak 6990 from camp. But from the summit of Peak 8383, we could see most of the terrain to plan a loop to the summits of Peak 7194 and Peak 6990. The entire area has a number of jeep trails that can be used for sagebrush-free hiking for a lot of mileage. You can see these trails easily from the summit of Peak 8383. A GPS track is provided below from the point where we parked.
Use the jeep trail to approach Peak 8383 (and Peak 7194 and Peak 6990). Follow the jeep trail north to the ridge for Peak 6990. From here, traverse across a slope and down into the shallow section of Deadman Canyon, aiming for a prominent game trail that climbs out of the canyon to the northeast. At the top of this slope, continue on the game trail. It follows the long, gentle west ridge of Peak 8383 until it connects with a jeep trail.
Continue on this trail as it heads toward the steeper climbing on Peak 8383's west ridge. Stay on the west ridge as you climb, and thread around and/or through a few rock outcrops along the ridge as you head for the summit. Stay well west of any prominent cliff walls on the peak's south face.
At the top, find a summit cairn to welcome you and great views of the Lost Rivers, Lemhis, Big Southern Butte, and the Snake River Plain. There might be a summit register, but the snow/ice prevented us from digging too deeply into the cairn to find it.
---
East Ridge and North Ridge Routes by Livingston Douglas
East Ridge, Class 3
Access
Eightmile Canyon Road is located on ID-33 exactly 5.9 miles south of the junction of ID-33 and the Little Lost River Highway in Howe, ID. Eightmile Canyon Road is unsigned and is located on the west side of ID-33. There is a gravel pit at the base of the road with a large pullout/parking area. Drive 1.5 miles west on Eightmile Canyon Road to an unsigned junction with a dirt road heading left/west.
This junction is at a fork in Eightmile Canyon and is labeled "Corral" on the USGS topo map, though there is no longer a corral here. Drive a short distance up the rough dirt road to a parking/camping area. The road ends here (5,400 feet). Please be aware that Eightmile Canyon is a haven for rock climbers known as the "Fins." It is difficult to park or camp anywhere along Eightmile Canyon Road. It's really nuts, especially on summer weekends. Get here EARLY and on a WEEKDAY.
The Climb
The parking area at the fork in Eightmile Canyon is the toe of the east ridge of Peak 8383, but you can't see the peak from here. It is over 2-1/2 miles away. From the parking area, scramble southwest across sagebrush to a rounded ridge. Climb southwest up this magnificent open ridge of sage/grass until you reach a series of rock ribs/strata higher up. Navigating your way up through these ribs is the crux of the climb. While not overly difficult, they go at Class 3. The ridge steepens and narrows and is well-defined high up. The slope relents slightly before a final Class 3 scramble up boulders and rock ribs to the top of Point 7200+.
From the cairned top of Point 7200+, descend west just over 200 vertical feet to a saddle. This downclimb is also Class 3 thanks to two rock ribs high up on the west face of Point 7200+. The rock scrambling is over now and it is easy scrub/grass from here to the top of Peak 8383. You still have almost 1,200 vertical feet of climbing to do. From the saddle, scramble southwest up a sage/grass face to reach a well-defined ridge at about 7,300 feet. Follow the ridge northwest briefly then west to the summit. There are a few rocky outcrops to go over or skirt, but nothing serious. The summit of Peak 8383 is just a hump of short scrub. There is a modest summit cairn on top.
North Ridge, Class 2+

Access
Same as for the east ridge. This route is the first leg of a ridge traverse from Peak 8383 to Peak 8603.
The Descent
From the summit, descend north through a short, steep section of ridge rock and forest (Class 2+) to reach an easy pine forest then open scrub. There is a 55-foot vertical scramble over a ridge hump before the final drop to the saddle. There are also some minor ridge outcrops to skirt or go over. The north ridge terminates at a long narrow saddle that connects Peak 8383 to both Howe Peak and Peak 8603.
Mountain Range: Lost River Range
Longitude: -113.10201 Latitude: 43.68929
Share this post ...