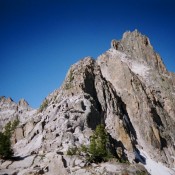 The Sawtooth Range is extensivley discussed on Pages 156-210 of the book. The interesting climbing history of the Sawtooth Range is found in the Climbing History section of the book. All of the Sawtooth Range peaks covered on this website can be found at this link: Sawtooth Range Updates.
---
The Sawtooth Range is the home of Idaho mountaineering and is the best-known of Idaho's many mountain ranges. The range is an extremely rugged collection of granite peaks and alpine lakes with an eastern escarpment that is perhaps Idaho's most impressive mountain wall. Scattered throughout the range are 48 peaks that exceed 10,000 feet. There are many more peaks, spires and towers crowding the high Sawtooth ridges that, although less than 10,000 feet in elevation, are challenging climbing objectives. The main Sawtooth Crest stretches more than 32 miles from north to south. From east to west, the range measures 20 miles across at its widest point and includes several other impressive divides.
Click here for SAWTOOTH ACCESS UPDATES
Thompson Peak is the highest point in a range filled with superlative summits like Mount Heyburn and granite formations like Elephants Perch. The Sawtooth Range is known for its quality rock and many technical routes. Clint Cummins provided a catalog of many technical routes which includes valuable links to topos and some trip reports for many of these climbs.
Sawtooth Table of Contents
CENTRAL DIVIDE OVERVIEW
CONY REWARD DIVIDE OVERVIEW
CREST: ELK PEAK TO MATTINGLY PEAK OVERVIEW
CREST: MCGOWN TO ALPEN PEAK OVERVIEW
CREST: PACKRAT PEAK TO ELK PEAK OVERVIEW
GRAND MOGUL CRAMER DIVIDE OVERVIEW
HEYBURN DIVIDE OVERVIEW
NORTHWEST PEAKS OVERVIEW
QUEENS DIVIDE OVERVIEW
OTHER SAWTOOTH TOPICS
Sawooth History Archives covers all history related to the range.

Click here for the SAWTOOTH CAM for a live view of the range by Stanley and here for a REDFISH LAKE CAM.
Mountain Range: Sawtooth Range
Share this post ...