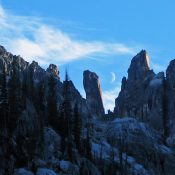 The Verita Ridge Complex is located between Warbonnet Peak and the main Sawtooth Crest. These granite formations received a lot of attention in the 1960s by mountaineers like Fred Beckey. This early attention is understandable because the complex is composed of solid granite forming a variety of challenging, enticing shapes.
The ridge's southern exposure (toward Goat Creek) is a steep mass of scree, talus, and hardpan. The north side of the ridge (which rises above Baron Creek) is generally composed of lovely, solid, high-angled slabs. Specific formations include Silicon Tower, Tilted Slab Pinnacle, Leaning Tower of Pisa, Damocles, Perforated Pinnacle, Mikes Pinnacle, Cirque Lake Tower, Dinner Tower, Lunch Tower, Breakfast Tower, and Dessert Tower. These formations are discussed on Pages 186-190 of the book.
---
Access
The formations listed below are accessed from FST-101, which begins either at Redfish Lake [(A)(5)(c) on Page 207] or Grandjean [(B)(3)(c) on Page 209].
USGS Warbonnet Peak/SW
Mountain Range: Sawtooth Range
Share this post ...