Elevation: 6,495 ft
Prominence: 355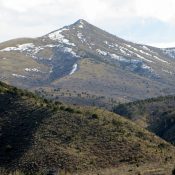 This peak is not in the book.
---
Peak 6495 is located in the Bannock Mountain Range. The peak is 3.75 miles southwest of the town of Inkom, Idaho, and 2 miles northeast of Indian Mountain. The peak lies on the border of public land managed by the Caribou-Targhee National Forest and the State of Idaho. Peak 6495 is best climbed from the north, through public land managed by the Bureau of Land Management (BLM). This peak can be combined with Peak 5762, via a loop route, for an early-season, double-peak outing.
Getting There
The most challenging part of the climb might be finding the trail head, which is located on a strip of public land between two private residences. Starting from Pocatello, take Bannock Highway (which roughly parallels the west side of Interstate-15) southeast to West Portneuf road, and head east toward Inkom. At the intersection of West Portneuf and West Blackrock roads, turn southeast (right) and continue on West Portneuf road.
As you drive, look toward your right (south) for a BLM trail marker that is next to a fence post. The marker is not easy to spot, and there is no parking area or pull-off. But, if you pass a private drive on your right that is signed "Dead End" or Tatonka Lane on your left, you drove too far. When you find the marker, the only legal option to park is on the narrow road shoulder, or as we did…slightly off-road, straddling the small ditch.
North Ridge Route
Hike south through this strip of land, using one of several "paths" until you reach a gate. The gate was open in March (2017), and there was no indication that it is ever closed. Peak 5762 lies to your immediate right (west).
We climbed this peak with Peak 6495 via the loop route shown in the GPS track, below. However, if Peak 6495 is your only destination, pass through the gate and continue south on a discernible trail toward Trough Canyon. At junctions, stay to your right to stay out of Morris Canyon. Hike for about 1 mile. At this point, you reach another junction. Here, look for your trail to continue up a short, steep climb to your left (east).
Follow the trail until you find a point to go off-trail and hike up the peak's north ridge. Or, be impatient and immediately bushwhack through tall, thick sage and other scratchy bushes, guaranteeing to collect a few tics (two in my case), clothing snags, and body scratches along the way!
Climb the ridge until you reach the marked summit. The views of Peaks 5762, 8037, Indian Mountain, Walker Benchmark, Scout Mountain and Portneuf Mountain Range peaks (e.g., Bonneville Peak, Snow Peak, and Haystack Mountain) are really nice from the top!
When you've finished enjoying the views, reverse your route to the trail head.
Other Accesses
We investigated access to this peak from public land off of South Indian Creek road, as the climb might be shorter from the south. But when we reached the end of the paved road, the gate was closed and locked, the cul-de-sac was signed prominently "No Stopping, No Parking, No Trespassing," and one of the neighbors had come out on their porch to see what we were doing.
So, to find out more about possible public access from South Indian Creek road, contact either the BLM, Pocatello Field Office, or the Caribou-Targhee National Forest, Westside District Office.
Class 2
USGS Topo: Inkom
Mountain Range: Bannock Range
Longitude: -112.31129 Latitude: 42.76139
Share this post ...