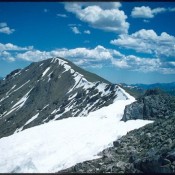 The Beaverhead Range is covered in the book on Pages 319-331. All Beaverhead Range peaks covered by this website can be found at this link: Beaverhead Range Updates.
---
The Beaverhead Mountains form the Idaho/Montana border and the Continental Divide for nearly 200 miles, from Chief Joseph Pass and MT-43 (north of Salmon) to Monida Pass and I-15 (north of Dubois). Many maps still call this range the Bitterroot Range. The Beaverhead crest is graced with pristine glacial cirques, massive limestone cliffs, knife-edged ridges, and dozens of imposing summits. It has, for the most part, a single spine and only two significant subsidiary ridges. This crest stays above 8,000 feet for its entire length and is highlighted by two high, rugged segments: one near Salmon and one at the range's southern terminus.
While the highest point in the range is found completely in Montana, many of the range's peaks offer outstanding climbs. Freeman Peak, Eighteenmile Peak, and Italian Peak are my three favorites. But there is still a lot of the range I have not explored, with challenging summits like North Doublet, Conical Top, Huhs Horn, and Scott Peak, the highest Idaho Beaverhead Peak.
Click here for BEAVERHEAD ACCESS UPDATES.
---
Mountain Range: Beaverhead Range
Share this post ...