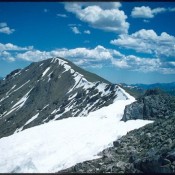 The Beaverhead Range is covered on Pages 319-331 of the book. Please note that grizzly bears have been spotted in this range. All of the Beaverhead Range peaks covered by this website can be found at this link: Beaverhead Range Updates.
---
The Beaverhead Mountains form the Idaho/Montana border and the Continental Divide for nearly 200 miles, from Chief Joseph Pass and MT-43 (north of Salmon) to Monida Pass and I-15 (north of Dubois). Many maps still call this range the Bitterroot Range. The Beaverhead crest is graced with pristine glacial cirques, massive limestone cliffs, knife-edged ridges, and dozens of imposing summits.
It has, for the most part, a single spine and only two significant subsidiary ridges. This crest stays above 8,000 feet for its entire length and is highlighted by two high, rugged segments: the northern section runs from Lost Trail Pass, north of Salmon to Italian Peak; the southern runs from Italian Peak eastward to Monida Pass. (See Livingston Douglas' article below.)
While the highest point in the range is found completely in Montana, many of the range's peaks offer outstanding climbs. Freeman Peak, Eighteenmile Peak, and Italian Peak are my three favorites. There are many other challenging summits like the Red Conglomerate Peaks, Conical Top, Huhs Horn, and Scott Peak (the highest Idaho Beaverhead) to explore.
The South Beaverheads by Livingston Douglas
The South Beaverheads are the southernmost of the Beaverhead Mountains in Idaho. They include all of the Beaverhead Mountains that are located from Italian Peak east to Monida Pass. They also include the Beaverhead Mountains that lie south of the Continental Divide from its elbow turn near Italian Peak to Monida Pass. While some of the South Beaverheads lie on the Continental Divide, most lie SOUTH of the Continental Divide, which is unusual because the Divide is typically running in a Southeast-to-Northwest direction.
Unlike many of the rugged Idaho Beaverheads located farther north, the South Beaverheads are gentler and warmer. They are often free of snow by June thanks to their south-facing aspects and their lack of forest cover. Most are easy climbs, but there are a few (e.g., Acropolis Peak) that will test you. Most of the South Beaverheads are accessible on public land, but a few are not. There is a lot of private ranch land in this area but county roads and BLM roads will typically get you to the mountains.
The South Beaverheads are bounded by ID-28 to the west, ID-22 to the south, and I-15 to the east. Road quality is mixed. There are three primary access roads that head north from ID-22 into the range, from west to east: Chandler Canyon Road (west) is a narrow dirt road and is sometimes badly rutted but passable. At other times, it is decent. Crooked Creek Road (central) is well-maintained and smooth. Medicine Lodge Road (east) is paved for the first 20 miles or so and is maintained all the way to Bannack Pass, but is rockier and narrower for the final couple of miles to the pass (still passable to passenger vehicles). Check with the Dubois Ranger District for road condition updates (208-374-5422).
Click here for BEAVERHEAD ACCESS UPDATES.
---
Mountain Range: Beaverhead Range
Share this post ...