Elevation: 12,662 ft
Prominence: 6,002
The Standard route on 12,662 foot Mount Borah is always a great climb and #10 on my Favorite Climb list. Borah is not only Idaho's highest summit but it is also a a complex peak with massive faces and challenging ridges. Climbers have shown a lot of interest in its other ridges and faces since the first ascent up the East Face in 1962 by Lyman Dye and Wayne Boyer. Lyman Dye first climbed Borah and along with his EE-DA-HOW Mountaineers climbing buddies explored every side of the mountain in the late 1950s and 1960s.
A lot of climbing has takes place on the mountain each year. The standard route is too crowded most summer weekends and the north face is a highly valued prize for alpine climbers. The north face is riddled with challenging routes. The peak's east face, originally climbed in 1962 by Lyman Dye and Wayne Boyer, has received a lot of attention in the last couple of years. In sum, there is something for every mountaineer on this peak.
Because Borah is so popular I have multiple pages devoted to the peak. The Borah Guide page covers the peak's Standard Route, the Southwest Ridge. Bob Boyles' Route Overview page provides summaries for all known routes on the peak. Bob Boyles' East Face page covers the two newest routes on the peak's east face. Bob has also provided to other route descriptions: Psycho Therapy and Borah, Borah, Borah.
You will also find (1) photos of Borah on this page, (2) Bob Boyles North Face photo showing the existing routes, (3) Psycho Therapy Route and (4) Bob Boyles' photo of the East Face on this page.
---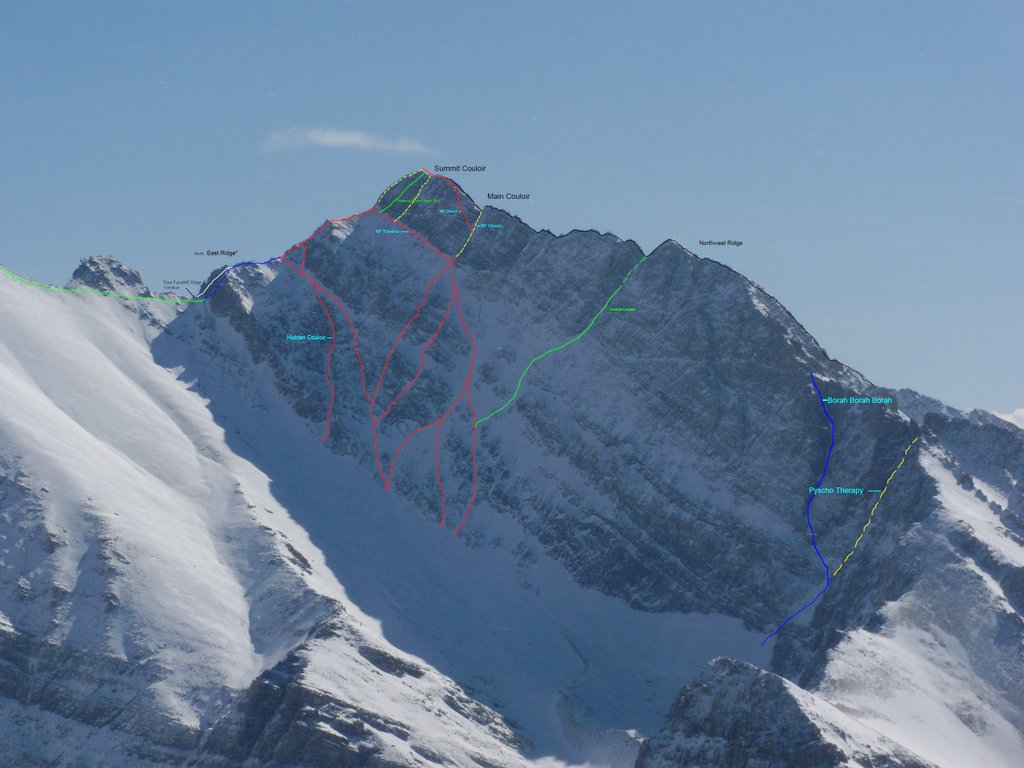 ---
Psycho Therapy. III, AI 4, M6, 5.9+, 1,200 feet.
Dean Lords, Brian Wood – September 18th, 2003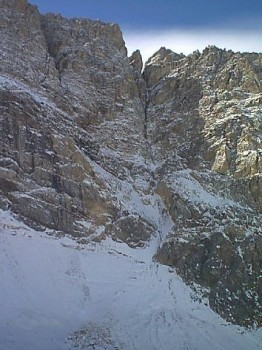 This route ascends the ominous near vertical couloir and black shaft on the extreme right side of the North Face proper. Psycho Therapy is a modern mixed alpine climb that involves sustained technical climbing on both rock and ice. The difficulty will depend greatly on the amount of ice present during the ascent. This route would be preferable during late autumn or early to mid spring when the rock is frozen in place and a substantial amount of ephemeral ice can be found on the vertical sections of the shaft. With more ice than what was found on the first ascent, this route could offer enjoyable climbing at a moderate difficulty.
Start with a few pitches of residual ice, mixed with icy rock steps to reach a small snow patch below the crux shaft. Belay as high as possible to the entrance of the shaft making sure your location is safe from falling debris. The shaft (a.k.a. Shock Treatment!), ranging in width from three to six feet, contains near vertical and vertical climbing on icy runnels and grooves, steep snow covered rock, chockstones, and sections of residual ice. Try to arrange the next belay below the obvious chockstone half way up the shaft (70 meters). This chockstone can be passed on the right wall by climbing a short section of steep 5.5 rock, or one could squeeze through the slot underneath the chockstone. Once past this first chockstone, continue up the shaft, passing underneath a second chockstone on steep ice and/or difficult rock to reach the upper confines of the couloir. One and a half pitches of steep ice with a little bit of rock at the top lead to the end of the couloir. Scramble and down climb the Northwest Face of Spur 11,557 as a means to return to the mouth of Rock Creek.
See Bob Boyles' description of the route for additional detail and photos.
(4) The East Face.
Additional Resources
Mountain Range: Lost River Range
First Ascent Information:
First Ascent Year:

1912

Season:

Spring

Route:

Uhknown. Probably the Southwest Ridge.

Party:

T.M. Bannon
Other First Ascent:

East Face

Year:

1962

Season:

Spring

Party:

Lyman Dye and Wayne Boyer

Other First Ascent:

North Face

Year:

1971

Season:

Summer

Party:

H. Hilbert and G. Grady

Other First Ascent:

North Face in winter.

Year:

Season:

Winter

Party:

Frank Florence, Art Troutner, Bob Boyles and Mike Weber
Longitude: -113.781122 Latitude: 44.137367
Share this post ...