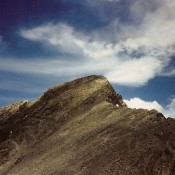 The Idaho Statesman reported this accident in its September 3, 1954 edition.
---
Lightning Hits Climbers
MACKAY, A lightining bolt struck a mountain climbing party near the top of 12,655 foot Mt. Borah Thursday iatternoon, causing the disappearance of one man and temporarily paralyzing another. A third escaped unhurt. Missing is John Landenberger, 18, son or J. C.Landenberger, superintendent or the Utah division the Kennecott Copper company, Salt Lake City. Robert A. Je'ster, 20, of Salt Lake' City, who later recovered the use of his limbs, was helped to the valley floor by the third member or. the party, Greorge  Pierce, 28, of Trenton, N.J. Pierce told officials here that the party had reached the top of the peak and was starting down when the storm hit; They attempted to slide down one of the snow fields on, the mountain to escape the storm, when the lightning bolt struck.  In the following confusion Jester and Pierce lost track or Landenberger. Pierce told officers that he made a hurried search of the area near him trying to find the lost climber but couldn't. He then packed the injured Jester to the base or the mountain and to the Fulton ranch 20 miles north or there on U. S. highway 93.  Jester's only injuries were a. few cuts and bruises from the descent and a burned toe.  A party of searchers was organized Thursday night and began searching for the' missing Landenberger. Friday an additional party will make the ascent, lead by Custer County Sheriff Lee Clark Blaine County Sheriff Les Outz and two experienced Sun Valley climbers. The three victims were employed at Sun Valley.
Share this post ...