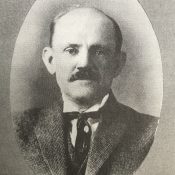 Thomas M. Bannon was also a self-taught mountaineer. Although his name is not widely known in mountaineering circles, during his surveying career from 1889 to 1917 he climbed nearly one thousand summits in the American West. More than two hundred of these summits were in Idaho. Bannon's cryptic reports, supplemented by the rock Cairns, Wooden triangulation signals, chiseled cross-reference marks; and brass benchmarks that he left behind tell his fascinating story. More than one hundred of his Idaho ascents were probably first ascents. These climbs included many of Idaho's highest and most famous peaks, including Mount Borah (which he called Beauty), Leatherman Peak, and Invisible Mountain in the Lost River Range; Diamond Peak (which he called Thumb), Bell Mountain (Bannon's Finger), Lem Peak, and May Mountain (Bannon's Hi Peak) in the Lemhi Range; Standhope Peak and Smiley Mountain in the Pioneers; Castle Peak in the White Clouds); and Mount McGuire in the Salmon River Mountains. Bannon's death at 48 cut short an extremely active life.
I spent a good part of the 1990's investigating pioneer government surveyors in the Idaho and western US mountains. This involved recovering some 100 mountain top triangulation stations placed by Bannon & party in Idaho from 1911-1915. In his career as USGS Topographical Engineer 1894-1917 T.M. Bannon had a hand in making ~50 topographic maps.
Having grown up myself in Maryland, a highpoint was a July 1995 pilgrimage to the Bannon burial plot at St Lawrence Martyr R.C. Church in Jessup. Bannon family monument (like T.M.'s triangulation monuments) occupies a prominent position in the church graveyard.
Obituary notice from Washington Evening Star, Feb 6, 1917:
THOMAS M. BANNON DIES AFTER A BRIEF ILLNESS
 Was Engineer of Topographic Branch Geological Survey- Funeral Thursday at Jessups, Md.
Thomas M. Bannon, engineer of the Topographic Branch of the geological survey and a prominent resident of Anne Arundel county, Md, died Sunday evening at Maryland University Hospital in Baltimore. Mr Bannon had been ill only a short time. [Author's Note: USGS said field worker deaths at that time often attributed to typhoid fever].
Mr. Bannon had been connected with the geological survey since 1888, the greater portion of his service having been given to topographic and geodetic surveys in different western states.
Prior to the organization of the United States reclamation service, Mr Bannon was detailed to collect the data which that organization used in connection with the development of its projects in Idaho and Utah [Author's Note: chiefly Bear River drainage].
In 1908 he was detailed to the Porto Rican government and placed in charge of surveys in developing irrigation of the semi-arid portion of the island.
During the last few years Mr Bannon's efforts had been directed to the extension of geodetic work in western Montana and eastern Idaho and in mapping portions of the national forests in Idaho.
In addition to his official duties with the government Mr Bannon served seven years as a member of the board of governors of the Maryland board of correction and was active in many local and charitable organizations of Anne Arundel county.
Mr Bannon was unmarried, is survived by two sisters, Mary and Francis Key Bannon, and three brothers, James T., Phillip M., and Joseph Bannon.
Final notes: It is believed Bannon thru his mother Evaline was related to Francis Scott Key. Bannon's federal appointment as an 18 year old was thru Rep. Barnes Compton, also an F.S. Key relative. Survey director John Wesley Powell was chided for hiring "Congressmen's nephews". Bannon estate in Jessup was demolished in 1950 to make way for Baltimore Washington Expressway.
See also: Appendicitis Hill and T.M. Bannon and 1929 Borah Declared Idaho's Highest Peak
Share this post ...