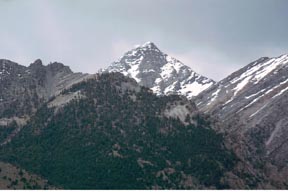 MOUNT BORAH STANDARD ROUTE via CHICKEN OUT RIDGE.
Borah Peak, a.k.a. Mount Borah, at 12,662 feet is Idaho's highest peak and is usually called Mount Borah by Idahoans. It was named for Senator William Borah and its early history is recounted in the Mountaineering History section of the book. Additional route information can be found at the following links:
Mount Borah Page.   Borah Route Overview Page. Idaho 12ers.
Pyscho Therapy Route   Borah, Borah, Borah Route.
Borah is a complex and attractive mountain with relatively good rock. Even if it was not Idaho's highest, it would be on my top ten list for best climbs in Idaho. The standard route is arduous and mentally demanding. Thanks to its "highest peak" status, many attempt to climb it each year, mostly by the southwest ridge route. Borah has been climbed during every month of the year. The late Chuck Ferguson climbed the peak 25 times between 1979 and 1998.
Bob Boyles is the Dean of Borah climbers. He has climbed Borah 30 times. His breakdown; North Face 7 times (one winter ascent), East Face 1 time, the Standard Route 22 times. On descent, he has down climbed the West Face, South Face, North Face and of course, CO Ridge. He first climbed Borah in 1973 when he was 20. Last summer, 2013, he reports "I had just turned 60 so I had to get that number 30 out of the way. After 1973 I made sure I climbed it on my decade years of 1983, 1993, 2003, and 2013 when I was 30, 40, 50 and 60. As for 70, ha, who knows? Why do I keep doing it? It's a personal physical test and I figure if I can't make the summit of Borah then my days of doing this kind of stuff are coming to an end for good. Every year I've been pleasantly surprised that the grind and the altitude hasn't bothered me (yet). I tell everyone when I climb now that someday I might just turn around on a trip and say "screw it" for good. Heck, I'm going to be 62 next year and it keeps getting harder to find any one in my age group to go with."
There have been five fatalities on the peak. (one from lightning in 1954, two from avalanche in 1977, one from glissade accident in 1987, and one from a plane crash in 2005.) This is a low number considering the number of inexperienced climbers who attempt Borah. The climbers who died were experienced, but tempted fate by challenging adverse snow or weather conditions. In November of 1977, two Idaho Falls climbers were swept away and killed by an avalanche on the southwest ridge route. In the spring of 1987, a Boise climber died after losing control of his glissade and going over a cliff. The first ascent was probably by T.M. Bannon of the USGS in 1912.
NOTE: Mount Borah access information for the standard route is found on pages 271 and 292 (B)(6). Over the last ten years, a well constructed trail has been built to replace the original climbers trail. This trail leads from the parking lot past the saddle just east of Point 8714 and then on to treeline. (See map below which is does not show the newest section of the trail). Needless to say, the trail makes the first part of the climb much easier. From treeline, the standard climber's route continues up toward Chicken Out Ridge without any new improvements but it is well worn in.
Standard Route.
Southwest Ridge. (Class 2-3) This is the standard route to the summit. Although many inexperienced people climb this route each year, do not underestimate its potential difficulties. The route climbs more than 5,400 feet in less than 4.5 miles and there are many spots from which you can fall significant distances. When the route is covered with snow, it is best left to experienced mountaineers. Additionally, there is no shortcut bypassing Chicken Out Ridge. Do not believe rumors about a shortcut. Use this link for the Standard Route Warning for additional details.
From the end of Mount Borah Road [(B)(6)] at roughly 7,200 follow the well-worn trail through the sagebrush-covered slopes and into timber. After 0.5 miles the there is a new section of trail which climbs around the head of a gully and tops out on a small saddle at 8,600 feet (east of Point 8714). See Map. The trail now becomes a climbers route which runs due east toward Point 10632, zigzagging and climbing steeply to treeline. As you leave the timber, the ridge becomes more defined and easier to follow. The route continues up the southwest-trending ridge toward the main crest at Point 11898. The final 300 feet of elevation gain to the main crest is known as Chickenout Ridge.
These two photos were shot midway between treeline and the beginning of Chickenout Ridge:
The first is the view up and the second the view down the ridge.
Chickenout Ridge climaxes in a narrow, knife-edged col just before the main crest. Although the route is well marked, many people are reluctant to cross the lower, rocky-ribbed section of Chickenout, which can be treacherous if it is topped by snow or ice. The final snow ridge is crossed by first down-climbing a 20-foot pitch and then carefully kicking steps in the snow.
While an ice ax is recommended, there is often a wide trail across the snow made by other climbers.
Once across Chickenout, a good trail follows the ridge on the west side of Point 11898 to the saddle on its north side. See Map. From the saddle, the ridge can either be climbed directly or by following a fair trail on the ridge's west side through broken rock bands and talus to the summit.
The trail crosses over lots of loose rock, which can be exhausting. Take plenty of water and expect the ascent to take between three and twelve hours, depending on the abilities of your party.
Trip Reports from IAGC Contributors.
Erik Leidecker  — A professional Guide's perspective.
Climbing the Standard Route in Photos.
Chicken Out Ridge (COR).
The following five photos by Bob Boyles will give you a good idea of the terrain you must cross on Chicken Out Ridge.
Above Chicken Out Ridge.
The Summit.