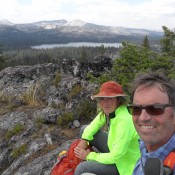 Last week, John Platt completed all of the ranked peaks on the Box Lake USGS quadrangle. While many Southern Idaho climbers think the world begins and ends in Eastern Idaho's Lost River Mountain, John has methodically demonstrated that the Lick Creek subrange of the Salmon River Mountains is a granitic wonderland for climbers. The Box Lake quad is arguably the heart of the Lick Creek Range.
John's first peak in the quad was the remote South Loon Peak, which he climbed in 1999 during a backpacking trip to Enos Lake. He has climbed South Loon Peak on a number of occasions since that first ascent. South Loon Peak is the quintessential Lick Creek peak as it incorporates large doses of all the obstacles facing climbers who venture into the range. As John states: "The biggest challenge in climbing Lick Creek peaks is navigating and dealing with off-trail issues, especially steepness, granite blocks, slabs and towers and deadfall."
Thinking back on his accomplishment, John comments: "When I look at all those Box Lake quad peaks, it makes my head spin remembering the difficult miles I traveled off trail." John also added: "I think my favorite was probably 'Paintbrush' (Peak 8610). "It's a really cool peak that you can see and identify from lots of places. It is a gorgeous hike with tons of wildflowers and I crossed the summit with my wife Julie as part of a big loop hike on a beautiful day." Paintbrush is followed in John's pantheon of favorite Box Lake quad peaks by Peak 8647, which John calls "Teardrop Peak" (because he made Julie cry on this ascent). "It has a nice snow ridge with a little Class 4 rock and some exposed snow climbing."
John's hardest day of climbing in the quad was when he and Michael Pelton climbed South Loon Mountain and North Loon Mountain (located just north of the quad). In one of his typical understatements, John relates that the day just "about killed me." Considering that the day involved 20 miles, 7,100 feet of elevation gain and 15 hours of mostly cross-country travel, I think it would have killed many of us.
John notes that technically Hum Peak (Hum #1) is probably the toughest peak in the quad. "You have to complete a short boulder problem to sit on the summit block. But, generally, these peaks are no harder than Class 3 if you look around."
Here are the Box Lake quad peaks:
South Loon Mountain: 9,287 feet elevation/627 feet prominence
Peak 8808: 8,808 feet/508 feet
Rain Peak: 8,755 feet/1,695 feet
Peak 8744 (Tsum Peak): 8,744 feet/764 feet
Peak 8708 (Thirtythree Peak): 8,708 feet/608 feet
Peak 8662 (Lost Art Peak): 8,662 feet/522 feet
Beaverdam Peak: 8,653 feet/831 feet
Peak 8647 (Teardrop Peak): 8,647 feet/467 feet
Burnside Peak: 8,614 feet/234 feet
Peak 8610 (Paintbrush Peak): 8,610 feet/670 feet
Peak 8605 (Wanderlost): 8,605 feet/425 feet
Peak 8573 (Humdinger Peak): 8,573 feet/593 feet
Pearl Benchmark: 8,414 feet/554 feet
Peak 8407 (Hum Peak #5): 8,407 feet/387 feet
Peak 8380 (Ho Peak): 8,380 feet/480 feet
Peak 8380 (Hum Peak): 8,380 feet/440 feet
Peak 8356 (Cly Basin Peak): 8,356 feet/599 feet
Peak 8347 (Black Pearl Peak): 8,347 feet/484 feet
Peak 8302 (Box Peak): 8,302 feet/482 feet
Peak 8289 (Foolhen Peak): 8,289 feet/509 feet
Peak 8213 (Yockwah Peak): 8,213 feet/334 feet
Peak 8041: 8,041 feet/421 feet
Peak 7889 (Flying Fish Peak): 7,889 feet/348 feet
[Editor's Note: I linked all these peaks, with one exception, to pages on this website where you will find links to John's trip reports. You can also visit John's website to read about his adventures.]