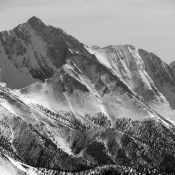 This article was published in the Aberdeen Times on August 18, 1949.

Since 1940, only 62 people have climbed Mount Borah, Idaho's tallest mountain. Among these are 4 amateur mountain climbers from Aberdeen who scaled the 12,655-foot peak last Monday morning. Stanley and Horace Nealey, Howard Morton and Norman Brown put on a good pair of shoes last Saturday afternoon and drove to the base of Mount Borah where they started the climb the next morning.  
"We stopped at a farmhouse at Dickey and got all the information we could get," Horace Neeley said, "but we found out that there are no regular trails up the mountain and that climbing it would be up to us."  
"We camped that night at the base of the mountain. We had driven as far as possible in our pickup truck, but found that we had about 7,000 more feet to climb on foot the next morning," Neeley said. He also said that although the mountain is plenty steep, spiked shoes and ropes were not necessary for the climb. ''All you need for Mount Borah is a good sturdy pair of shoes," he said. "The climb is nearly all rock and it's easy to wear out a pair of ordinary shoes." 
"On the way up, the air kept getting thinner," Horace said, "and near the top, we had to rest quite frequently." 
"The top of the mountain is quite a ways above the timberline. We saw some huge snow drifts and ran into a snowstorm. The snowstorm wasn't like a regular blizzard because it was caused by a Summer thunderstorm that turned to snow at that high altitude. We had coats with us but it got mighty cold anyway. After about 20 minutes on the summit, we turned back down the mountain. We had left our camp at 7:35 in the morning and got to the top at 12:20PM, approximately five hours of climbing. Although we covered about two miles, it was about a mile from base to summit in a straight line." 
"From the top of the mountain, we could see a lake below us with a small iceberg floating around in it. We saw few animals . . . only one herd of about a dozen antelopes. We found a box at the top that had been placed there by the Mazamas Club in 1940. The Mazamas Club is a mountain climbers organization. Only people who have climbed to the top of the mountain where there is perpetual snow qualify for the club. We signed our names to the list. Only 62 people have climbed Mount Borah since 1940. Apparently, the trip back was considerably easier, but it still took the group three hours to go the two miles down."  
The boys advise potential mountain climbers to wear a good strong pair of shoes and to take a lunch along on the climb. And, climbers should take a canteen of water, although there will probably be enough snow at the top to take care of thirst. A good truck is needed to get over the rough roads to the base of the mountain because a car won't clear some of the obstacles.  
Horace Neeley has been climbing mountains for quite some time and has scaled several in Idaho. He's climbed Bannock Peak, Mount Sedgwick beyond Lava, and Mount Hyndman near Sun  Valley. The latter is 12,078 feet high. The next mountain on the list to be climbed is Mount Leatherman near Mount Borah. "It's not quite as high as Borah," Horace said, "but they say the climb is a lot tougher."  "I like mountain climbing, but I haven't reached my ambition yet. Someday, I'm going to climb the Grand Teton, north of the Jackson Hole country."  Want to keep cool this summer? Go find a nice, tall mountain and sit on top of it.
Share this post ...