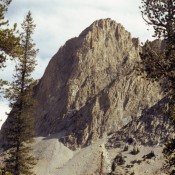 [Editor's note: This August 6, 1975 article by UPI was published in the Idaho Statesman. No other details are known.]
Climber, 24, Dies After 70-Foot Fall
UP International
-A mountain climber from North Carolina. died in a Boise hospital Tuesday from injuries he suffered in a fall Sunday on El Capitgn in the Sawtooth Wilderness.
A hospital spokesman said Tom Brothers, 24, of Morganton, N,C., died at, 7:40 am. from massive injuries.  Brothers fell 70 feet while climbing El Capitan. He was' about three quarters of the way to the summit when he grabbed rocks that broke loose. His partner, Neil Harrison, Atlanta, Ga., was not injured.
Brothers was taken to the Sun Valley Hospital. for emergency treatment and transferred by ambulance to Boise. He was the son of Mr. and Mrs. Grayson Brothers of Morganton. Arrangements for cremation were handled by Alden-Waggoner Funeral Chapel in Boise. The family planned interment on the slopes of El Capitan.
Share this post ...