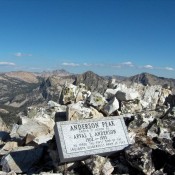 Dave Pahlas provided the following historical information about Arval Anderson, who was an early surveyor and mountaineer in the Sawtooths. He is credited with naming several Sawtooth peaks.
Dave reports:
"On the summit of Peak 9704, I found a large stone marker proposing that the peak be named after Arval L. Anderson. This led to some Internet searching and researching, which has been rewarded with the email chain below. It was pure luck that I happened upon Mr. Anderson's family and now I feel like I'm getting an insider view on some neat history. Anyway, I was hoping to get your thoughts on whether you think they have any chance at all of getting the peak officially named after Arval Anderson? I've heard that it is next to impossible to get a name changed within a Wilderness Area, but I was hoping if there was ever an exception to that rule, this one might have at least a slim chance."
His discovery led him to Mr. Anderson's relatives and the following email exchange which provides valuable history and demonstrates the difficulty of getting peaks officially named.
---
Dave Pahlas <dpahlas@hotmail.com> wrote:
Hello, I found your email address from a photo on flickr.com and I'm hoping you might be able to help me find some information about Arval L. Anderson. This weekend, I climbed a remote mountain in the Sawtooth Mountains of Central Idaho and was surprised to find a block engraved with:
"Anderson Peak"
Named in honor of Arval L. Anderson 1902-1993
He made the first map of the Sawtooth Wilderness Area in 1927.
If you know of him, I would be very interested to hear more about him and his time spent in the Sawtooths.
Regards,
Dave Pahlas
Roger Anderson wrote:
Hi Dave,
My father and I first climbed that mountain in 1952 when I was 12 years old. He told me that it was one of his favorite spots for triangulation (to locate other peaks) because you can see a large part of the Sawtooths from there. The attached, more recent, picture shows the beautiful view toward the southeast. The person enjoying the view from the top is my grandson Brandon. To the northeast (not in this picture), the Rakers are clearly visible. When dad did his survey in 1927, he did not give this peak a name because it is a few feet lower than Mount Everly to the southeast which already had its name. He used "Arval's Peak" for triangulation because it is more accessible and has a great view of much of the Sawtooth Wilderness Area.
The other group of pictures show Arval on one of the peaks (possibly Arval's Peak) with his plane table and alidade, and another of my mother Maysel with her horse. These were taken in 1927 while they were doing the mapping. I have other pictures from a number of trips there. I also have a copy of the autobiography done for the Forest Service that covers his entire career.
I have been to that mountain 5 times (in 1952, 1967, 1995, 1997 and 2002). I was on the top every time except 1995 which was a backpacking trip from the North End of the Sawtooths. We brought the marker to the summit where you can see "Arval's Peak" but did not have enough time to take it closer. We took it halfway up the South Face in 1997 and my daughter Sherille's husband Mike took it the rest of the way in 2002. The rest of us were challenged to climb the peak without carrying something as heavy as the marker. My son Keith was there every time except 1952 and in addition he was there along with his sisters in 2007. The Bells have been there in 1967, 1997 and 2002.
Keith, my daughter Kristen and I have been involved with trying to get this peak to be named "Arval's Peak". This is a long process and is even more difficult for a Wilderness Area. The Naming Board meets once a year and needs to have justification and signatures from other people in addition to the details on the naming petition. Keith and Kristen have gotten signatures from some of the local residents, but we have not put together a complete package. One of the rules is that we need to use first names, not last names, hence "Arval's Peak". We did not know that when we had the marker made. Also, his map was not the first, but was an improvement. The existing map in 1926 was not very accurate.
Regards,
Roger Anderson
—– Original Message —-
From: Donna B Sanders <dbsepa@pacbell.net>
To: Dave Pahlas <dpahlas@hotmail.com>Sent: Monday, August 4, 2008 4:07:32 PM
Subject: Re: Looking for information about Arval L. Anderson
Dear Dave:
That's great!! Arval L. Anderson is my grandfather and he made the first maps of the Sawtooth Wilderness area for the Forestry Service back in 1927. He and his new bride Maysel, his brother Joel Anderson, and another fella were part of the surveying party. It was quite an amazing trip, which he documented in reports to the Forestry Service and in an autobiographical account. My cousin, Keith Anderson, has collected much of the historical information about that trip and my mother, Berniece Anderson Bell also has typed up their personal recollections of that trip. We've also transcribed many of the conversations we've had about how they named various things on their trip.
Here are some notes that I took when I visited Grandma and Grandpa in 1988 when they were still living in their house in Ogden. I found them in an old journal I kept. He explained that there were certain guidelines for naming things–i.e., you couldn't name anything after a living person [unless that was the already established landmark] and that, wherever possible, they were to choose names that the Native Americans had used or that were Native American words.
Names and Derivations of Grandpa's Sawtooth Survey
Wolf Mountain — Where Grandpa and Uncle Joel saw some wolves
Tyee — Indian word for Big and Fat. Named because it was a big, fat mountain
McPhearson Creek, McLeod Creek and McKay Creek — were already named after sheepherders in the area.
Big Buck Mountain — was named after the Big Buck Grandpa killed which is hanging in the basement.
Edaho Mountain — is named after the Indian word for "Light on the Mountain"
The Rakers are named for how they look: the raker blade of a logger's saw.
Reward Peak was so named because on the top they found a pile of stones with a paper under it. The paper said "There is a $25 reward for whoever returns this paper to: " Then there was an address. Grandpa wrote to them, but they never wrote back.
They saw a packrat at Packrat Peak.
Bugle Mountain was named after the elk bugling in the valley below.
Warbonnet Peak looked like an Indian warbonnet.
Blizzard Mountain was so named because they had a terrific snowstorm while they were there.
In 1967, Grandma and Grandpa took all their kids and grandkids [including me] on a backpacking trip to celebrated the 40th anniversary of their surveying trip. It was an amazing adventure and we have many photographs of that trip. My mom and likely Keith have many of the photographs of Grandma and Grandpa's 1927 original trip as well. My nephew Bryan Wesley Bell may have digitized some of these photos as well.
Attached are a few photos from our 1967 trip. I've also attached a picture of Grandma and Grandpa with us kids so you'd know what he looked like. He was wonderful person, very even-tempered, kind-hearted, wise and extremely capable. After he retired from the U.S. Forest Service, he was hired by the Taiwanese Government to be the civil engineer to build their country's first highway.
After our Grandfather died, some of us climbed up Anderson Peak to place the marker you found. His son, Roger [my uncle] worked with the authorities to officially name that peak after my Grandpa. You can talk to him or Keith about that process. Several of us make the trek up there every year or two to spend time in the beautiful Sawtooths. I'm also cc'ing this email to my cousin Keith, my uncle Roger, my Mom and my brothers [Bruce Wesley Bell, Bryan Arval Bell] who may have other things to add.
With warm regards,
Donna Bell Sanders
Date: Sat, 13 Sep 2008 14:14:18 -0700
Subject: Fw: Information on Arval Anderson
To: dpahlas@hotmail.com
Hi Dave,
I just realized that I do have a copy of the letter that I sent to Vaughn Stokes in 1996. It has a summary about my father. It is attached. While I was working with the Forest Service/U.S.Geological Survey, they suggested that a different peak might be easier, one outside the Wilderness Area or one not so close to another peak (Everly) that already had a name. I said no; it had to be this one.
I did not tell them of the experience that I had had with my father when we were there in the 1950s. He took me to this peak and told me that it was one of his favorite triangulation points because the view is so vast. You know that Dave because you have been there. He picked up a rusty tin can, pulled out a small slip of paper and wrote on it "Roger's Peak" and said, "I am going to name this peak for you" and explained that he couldn't really do that, but it was just between him and me. He put the paper in the rusty can and placed it under a rock on top of the peak. What a great dad. There could be no other peak to honor him. For a little more information–within our family, we call the small lake at the base of the peak "Bell Lake."
Regards,
Roger Anderson
—– Forwarded Message —-
From: Roger Anderson <rogerhome94087@yahoo.com>
To: Dave Pahlas <dpahlas@hotmail.com>
Cc: Keith@Happy2BeHome.com
Sent: Saturday, September 13, 2008 11:47:47 AM
Subject: Information on Arval Anderson
Hi Dave,
I was just looking through the information that I have on my dad and the Sawtooths. I have the following items:
1) Pages 4 thru 9 of the "Forest Service History Series, Arval L Anderson, Interviewed by Al Brady, May 1983". This covers in great detail the Summer of 1927 that my dad and others spent mapping the Sawtooth Wilderness Area.
2) A copy of the map that my dad had made in 1927. My sister Berniece (Donna's Mother) may have the original.
3) Pictures that include: Arval, me and my ex-wife sitting on top of "Arval's Peak" in 1967. A beautiful picture of "Arval's Peak" taken from Mount Everly. It was taken from high enough that you can see the lake just below the peak. And other pictures.
4) A copy of the first request to name this peak that I had sent in 1996 to Vaugh Stokes, the Forest Service Regional Engineer for Region 4 and his response.
The problem is I need to wait until Wednesday of next week to scan these documents. My wife is away and she is the scanner expert. Did you get my last e-mail that had pictures attached? I got at least one date wrong. We were there in 2003 not 2002. Were you able to open the pictures?
Regards,
Roger Anderson
---
Vaughn Stokes May 19, 1996
Regional Engineer
U.S. Forest Service
324 25th Street
Ogden, Utah 84401
Dear Sir,
This letter is written to request that one of the peaks in the Sawtooth Wilderness Area be named for Arval L. Anderson.
Arval was born in 1902 in Northern Idaho and died in 1993 in Colorado Springs, Colorado. During his life, he worked for the Forest Service, was an Officer in the Military and together with his wife Maysel, produced three children and adopted a fourth. He was my dad and a wonderful father to all four of us.
Arval graduated from the University of Idaho in June of 1926 with a degree in Civil Engineering. He joined the Forest Service and was given an assignment to make the first U.S. Forest Service map of the Sawtooth Wilderness Area northeast of Boise, Idaho.
During 1927 Arval, Maysel and Arval's brother Joel lived and worked in the Sawtooth Wilderness creating a map. A copy of that map is enclosed. He occupied most of the major peaks and named many of the peaks, streams and rivers.
When I was in my teen years in the 1950s, I visited the Sawtooth Wilderness for the first time with my dad. He took me to a peak which is located in the center of the wilderness area. This peak is a location used by my father as a triangulation point for creating the map. From that point, you can see many of the other peaks including The Rakers, Mount Everly, Brown's Peak and others as far away as Glens Peak and Mount Cramer.
Again, in 1967, my father and I climbed the peak. This was during a family vacation when Arval and Maysel took their children and grandchildren for a 5-day camp-out at the head of the Queen's River. Our campsite had a beautiful view of the peak as the sun arose in the morning.
The peak is not accessible by trail and can only be climbed from the Southeast Face. My dad loved this peak because of its central location and beautiful 360-degree view of the Wilderness Area. The height of this peak is 9,704 feet, which is comparable to other peaks in the Sawtooths. It is located one-half mile south of Arrowhead Lake.
In 1995 my son Keith, my daughter Sherille and I, along with their spouses and other friends took a 6-day backpacking trip into the Sawtooths. We attempted to climb the peak on a one-day side trip from Benedict Lake. We did not all make it to the top, but two of our party did and took panoramic pictures from the top. I have enclosed one of the pictures which shows the view eastward looking back toward Mount Everly and extending northward to Blacknose Mountain. The other picture is a view of the peak taken from the ridge north of Mount Everly which divides the Queens River drainage from the Benedict Creek drainage. This peak does not have a name. I am requesting that it be given the name of "Anderson Peak" in honor of my father.
Arval worked for the Forest Service from 1926 until he retired. His jobs included Regional Engineer for Region 4 (Ogden) from 1938 until 1959 and Regional Engineer for Region 1 (Missoula) until he retired in 1962. His work for the Forest Service was noted in a "Forest Service History Series" publication made from an interview by Al Brady in 1983. A copy of the portion of that interview relating to his Sawtooth experience is enclosed. He was a retired Colonel in the U.S. Army and served active duty during the 2nd World War.
Yours truly,
Roger Anderson
Share this post ...