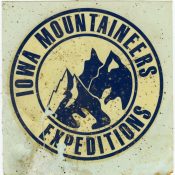 The Iowa Mountaineers climbing club was a major player in the in early Sawtooth Range exploration. The club was founded by John and Ede Ebert in 1940, as the University of Iowa Mountaineering Club. The club later incorporated as a not-for-profit Iowa corporation and became a major force in sponsoring climber education and expeditions throughout the world.
Schwartz Pinnacle, Harriets Pinnacle, Mount Bruce, Mount Ebert, the Elephants Perch and, of course, Mount Iowa all owe their names to the Iowa Mountaineers. You can read about the Club's Sawtooth explorations and first ascents on Page 19 of the book as well as in numerous entries in the Sawtooth Range chapter. A 2018 article in the University of Iowa Alumni magazine provides a good history of the Club: Mountain Roots by Josh O'Leary.
Other Resources
Iowa Mountaineers, Inc. website.