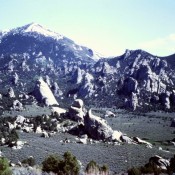 The City of Rock, a land of spectacular granite formations at the southern end of the Albion Range, was a stop in the 1840s along the historic California Trail. This trail forked off the Oregon Trail. Memoirs written by California Trail travelers momentarily brought some national notoriety to what was then known as the "Silent City of Rock." After the railroads spanned the continent pioneers no longer traveled crosscountry by Conestoga. The City was forgotten by most and became the home of ranchers and a few settlers. The City's status would remain silent for many years.
Dave Bingham first visited the City of Rocks in 1978. At that time the City was the quintessential "off-the-radar" climbing destination. Over the next few years the City's popularity took off and politics and conflicting uses exploded into controversy. (See Politics, Climbing History and Need, Climbing, No. 80, October 1983) In 1985 Dave published the first guidebook documenting the few known climbing routes. Historically, Dave is credited with publishing Idaho's first climbing guidebook. From a climbing perspective the guidebook was one of the catalyst for ensuring that rock climbing and rock climbers would have a seat at the table as land managers discussed the City's future.
As the City evolved from a nearly forgotten in time stop along the California Trail into a busy climbing and recreational destination manages as a National Preserve so has Dave's guidebook. Now in its 8th edition, the book has evolved over the past 35 years it is a comprehensive guide covering over a thousand climbing routes as well as the area's history and climbing lore, camping and nearby amenities and bouldering, hiking and mountain biking opportunities.
Share this post ...