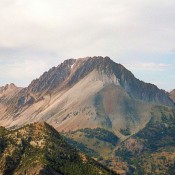 Fatal mountaineering accidents are rare in Idaho, but they do occur. Rarer still are fatalities from Summertime avalanches. Most people associate avalanches with Wintertime, and Winter is when most avalanches do occur. However, for climbers, it's the Summertime avalanche that can be an overlooked risk.
Stanley, Idaho resident Jared Spear died on Castle Peak in a rare Summertime avalanche. His friends discovered that he was missing and initiated a search. An air search located his truck at the Castle Peak trailhead on July 6 and spotted a fresh avalanche on Castle Peak. Jarad was an experienced snowboarder.
Sawtooth National Forest Avalanche Center Report
Saturday, July 2, 2005, a snowboarder (male, 31 years old) was killed while doing a solo, one-day ascent and snowboard descent of 11,815-foot Castle Peak. He was descending late in the afternoon and tracks show that he completed 3 or 4 turns below the summit and triggered a point release, wet slide that grew in size. The slide was triggered and ran in steep, rocky terrain and dropped over 1,000 feet. The debris consisted of snow, dirt, and many loose rocks that had been entrained in the slide, indicating a full-depth wet release. Deep posthole tracks were observed climbing up sections of the face so he was aware of the wet, loose nature of the snowpack.
The victim was not buried and appeared to have died of trauma and exposure. He was reported missing on Wednesday, when he did not show up for work after the holiday weekend. His body was located Thursday morning (July 7) by a group of local friends and searchers and evacuated by Sawtooth Forest helicopter Thursday afternoon. The slide was on the North Face of the 11,815-foot peak and the victim was found at 10,600 feet.
Although point release, wet slides are always a Summertime concern, the high mountain snowpack has been unusually loose and wet at high elevations this Summer. We have not seen the development of a typically denser Spring and Summer snowpack this year. This is due to a combination of a weak shallow snowpack throughout the entire Winter, large amounts of snow at high elevations during May and very poor overnight freezes since early June.  Reported by Janet Kellam, Director, Sawtooth National Forest Avalanche Center.
Idaho Mountain Express and Guide Article
Seve Benson of the Idaho Mountain Express and Guide  [Sun Valley's retired newspaper (2014)] wrote the following article about the incident and the effort to create a Search and Rescue team as a result of Spear's death. The full 2005 article is located below and also in the paper's online archive, currently located here.
Wednesday, July 27, 2005
Stanley seeks to start search-and-rescue team
Friends of deceased snowboarder criticize rescue effort
---
By STEVE BENSON
Express Staff Writer
Friends of Jared Spear, a Stanley man who died after triggering a wet-snow avalanche on Castle Peak on July 2, are leading efforts to form an official search-and-rescue team in Custer County.
During a meeting with local law enforcement agencies in Stanley on Monday morning, several of Spear's friends criticized the Custer County Sheriff's Department for its limited role in the search and recovery of Spear's body from the peak in White Cloud Mountains.
Spear's friends were responsible for organizing the search and locating his body. They felt the Sheriff's office could have done more in the early stages of the search and displayed poor communication throughout the ordeal. They also blasted Custer County Sheriff Tim Eikens for providing information to the media before members of the search party had conducted their own reports of the incident.
Eikens commended the search party, but also reminded all in attendance that his office was not notified that Spear was missing until the afternoon of July 6. He added that his office did all it could under the circumstances. "Before we put anybody at risk (in a search process), we have to know all of the information and there wasn't a lot of information," he said, adding that he did not even know the identities of the people in the search party.
Addressing the communication issue, Custer County Sheriff's deputy Mike Talbot said it was not intentional as technical difficulties hampered radio communications. But Eikens did not want to argue about what happened and focused instead on how to improve search-and-rescue efforts in the future. "We're here out of respect for Jared," Eikens said. "We're trying to make something positive out of something negative. "This is not fun, it's a traumatic event … but we need to support each other, and get your people to become part of the team."
Custer County, unlike Blaine County, does not have an official search-and-rescue team that acts in conjunction with the Sheriff's office. The search party—comprised of 10 of Spears friends—found his body in the early morning hours of July 7. Upon discovering he had been missing for several days, they organized an impromptu search party on the afternoon of July 6. A reconnaissance flight over the area on the afternoon of July 6 located Spear's truck at a Castle Peak trailhead—deep in the White Cloud Mountains—and spotted avalanche debris from a large wet slide on the peak's North Face. Not knowing whether Spear was alive or dead, the party coordinated an all-night effort that included travel on foot and motorbikes. Spear was found in a boulder field about a thousand feet below the summit. He was 31 years old.
According to a report written by Sean Tajkowski, who was a member of the search party, the avalanche ran about a thousand feet through steep, rocky terrain. Tajkowski said Spear was never buried by the debris and was not immediately caught by the slide. He added that Spear filmed part of his descent with a hand-held video camera and that the recovered footage supports his conclusions.
Pete Isner, Custer County Deputy Coroner and a member of the Stanley Police Department, said Spear died from trauma suffered in the slide. Isner said his investigation remains open since he has not received all of the information from the field, but he believes Spear died soon after the slide, squashing any rumors that he may have survived as long as 24-48 hours after the accident.
Kirk Bachman, founder of Sawtooth Mountain Guides, acted as the coordinator of the search for Spear. He did not criticize the Sheriff's office and expressed his support of the creation of a Custer County search-and-rescue team. He also commended Eikens for being supportive of such an endeavor. "The Sheriff's office is the legal authority on any search and we want to work with you guys," he said.
Eikens said when he first came into office two years ago he tried to create a Custer County search-and-rescue team but found little interest from local residents. After three hours of discussion, which included the full reading of a separate report prepared by Bachman and Tajkowski, Talbot passed around search-and-rescue applications. Almost all of the dozen or so citizens in attendance filled out an application.
Talbot encouraged those who wished only to lend resources, such as all-terrain vehicles, horses, boats or aircraft to search-and-rescue missions, to sign up and specify their potential contributions. "We're moving in the right direction," Bachman said during a break in the meeting. "We'll hold more meetings and focus on training and better communication."
Share this post ...