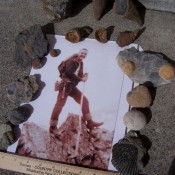 Some of the best examples of Idaho's marine Paleozoic fossils are found near the summits of mountain peaks (10,000 feet of elevation and higher). Although they appear in carbonate formations throughout East Central and Southeast Idaho, the core zone is in the Southern Lemhi and Lost River Ranges. Specifically, the best preserved fossils are found in the Scott Peak Formation of Mississippian Age. 330 million years ago, this part of Idaho was a shallow subtropical sea far to the southeast, part of the super continent Gondwanaland.
It was not an easy journey to the present for these coral reef relics. Only those that were quickly buried in lime muds and survived being eaten, baked, burned, squashed or torn asunder have survived. No soft body parts remain, and what we see is not the original shell-y part. This has been chemically replaced by silicates and iron oxides. Fossils allow us to see and touch the incredibly distant past. This visualization can also be enhanced by the sense of smell. Crack open a piece of black fossiliferous limestone. The sulfur dioxide (rotten egg) smell is another remnant of the decayed organism. The following 3 photos each depict a pioneer Idaho geologist and a suite of fossils he likely found in the course of his fieldwork.
JOSEPH B. UMPLEBY (1883-1967). Dressed in his "survey tans," US Geologist J. B. Umpleby is ready to leave camp on his mount for another day in the field, somewhere in Lemhi or Custer County (circa 1912). Colony coral is found on the summit of Umpleby Peak (10,713 feet). Fossils clockwise from lower left: Foraminifer; Bryozoan mass; next 5- colony coral (Tabulata); next 3- Crinoid (sea lilly) showing head, stem length and star-shaped axial cross section of stem; spicule.
CLYDE P. ROSS (1891-1965). A prolific writer of Idaho geology, 1947 was a banner year for US Geologist C. P. Ross with his publication of "Geology of the Borah Peak Quadrangle" and "Geologic Map of Idaho." Here he is pictured in Sawmill Canyon (Lost River Range) with White Cap Peak in the background (early 1930s). The bony fish was found en route to Clyde Ross Peak (11,724 feet). Fossils clockwise from bottom center: Streptelasma; Gastropod; 2 Trilobites; bony fish; 2 Archemedes-fan and stem mass, Coquina (limestone biomass).
OSCAR K. HUH (1935- ). O. K. Huh did his Penn State doctoral field work in the Lemhi Range, shown here in the Diamond Peak area (1959). Huh specialized in the Mississippian limestones and defined 4 new geologic formations, including the Scott Peak. You guessed it, Horn Coral fossils are found around Huhs Horn (11,292 feet). Fossils clockwise from lower left: 2 Productids, Orbiculoidia (with original blue sheen?); Spirifera-these are all Brachiopods; 6 Horn Corals (Rugosa) of various sizes, 2 show in tact septa. Horn Coral disappeared with the Permian Extinction, but as members of the Coelenterate family they are survived today by the jellyfish. Pelecepods (clams).
All material is from the Rick Baugher collection (April 21, 2007).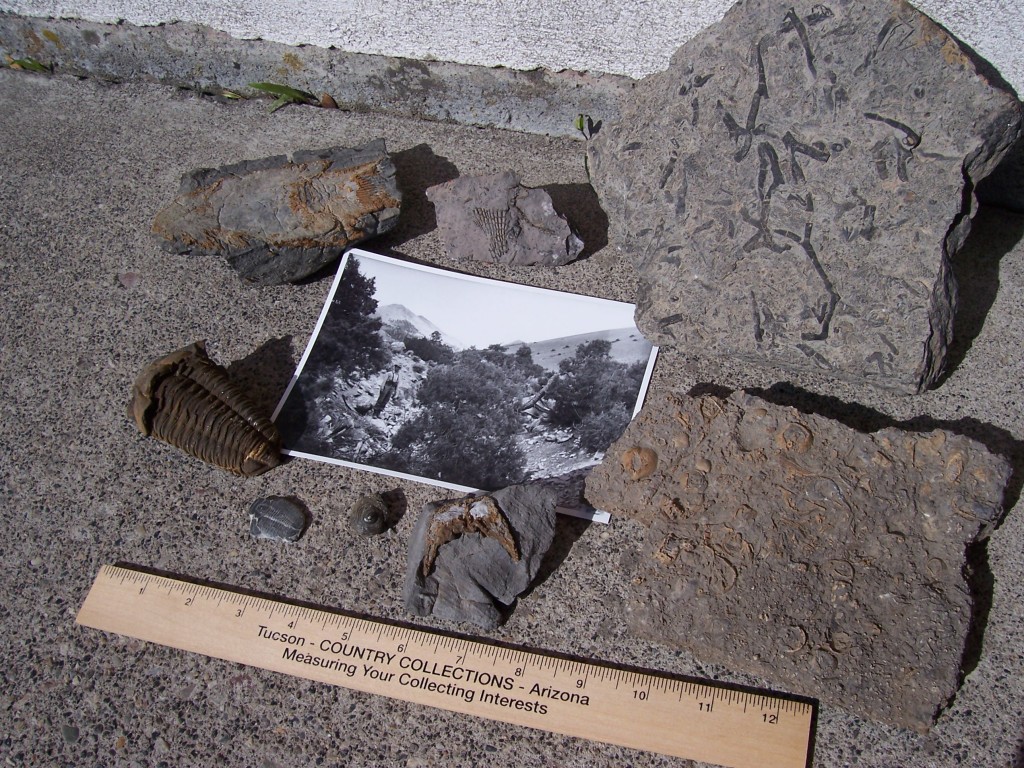 Share this post ...