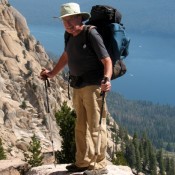 Ray became a climbing force in the Sawtooths in the 1970s. He has contributed outstanding articles on his 1970s climbing experience in the Sawtooths. Check them out in the Climbing History Section or use the links below. Also check out Ray's recent article on mining and Lemhi Range peaks in the vicinity of Big Windy Peak which was published in Idaho Magazine, entitled Of Mountains and Mines.
Ray relates that he "grew up working-class poor in Ketchum, spent a lot of time in the Sawtooth Range in the early 1970s and likely did a number of new routes but, at the time, the local anti-guidebook ethics kept me from publishing route descriptions until a new century. The one published exception was a new route on Elephants Perch in 1977, Pacydermial Pleasantries.
Ray's Climbing Journal Index — Ray's articles on his Sawtooth exploits are a must read!
Elephants Perch – Pacydermial Pleasantries 1977.
Pursuit of "Bluebonnet Tower and the Search for the "Crystal Cave."
Fred, Pete and Jack's Big Sawtooth Adventure
Ray ran an outdoor shop in Moscow (ID) from 1973-1983 and, during those years, he climbed a number of new routes on Lightning Dome on the South Fork Clearwater River and at a now-forgotten area near Manning bridge, 13 miles upstream from Riggins. He notes: "There were various other Idaho climbing adventures during those years, including 3 new, boltless routes on Slickrock (see below)." Ray has contributed a good description of the Three Crack Route on Slick Rock.
Ray says: "I'm still hiking an occasional 'safe mountain' and also enjoying rock climbing mostly at the City of Rocks, in between whitewater rafting trips, mineral collecting at old mines, and hikes to photograph Native-American rock art sites. I've continued writing about my outdoor adventures and those stories are mostly ending up in Idaho Magazine."