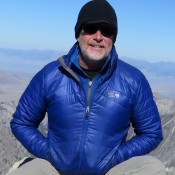 Dan grew up near Seattle in the shadow of Mount Rainier. He spent many hours hiking the glaciers as a teenager but it's only in recent years that he's gone back to summit the Pacific Northwest giant. Dan's climbing career in Idaho started in 2009 when he spent 3 months knocking off Idaho's 12'ers. Not a true "peakbagger," Dan finds more joy in helping others, less confident, in overcoming their fears and climbing these peaks. As a result, as of this writing he has now climbed Mount Borah (8 times), Leatherman (2 times), Donaldson Peak (5 times), Mount Church (3 times), Lost River Mountain (3 times), Diamond Peak (2 times), Hyndman Peak (3 times), Mount Breitenbach (3 times) but Mount Idaho only once. So far. He says he will continue to return to these peaks as long as someone asks him to help. Every climb is different even if it's the same mountain, he says.
Dan has climbed a handful of other Idaho peaks such as Cobb Peak and Jacqueline Peak just to name a few. His life-time climbing exploits have been a bit scattered from Gannett Peak in Wyoming, Mount Whitney in California to Mount Shuksan in Washington. He is always eager to climb something. He is currently preparing for a Denali climb in the Summer of 2016.
His greatest experience was on the summit of Mount Borah when a previously, stay-at-home divorced mom decided to climb with a hiking group to get her confidence in life back. She trained for a year. Dan led the climb but, from behind, helping people across Chicken-Out Ridge. When he finally made the summit himself, she was waiting at the top, hugged him and wouldn't let go as she sobbed in joy. That's what climbing is all about for Dan.