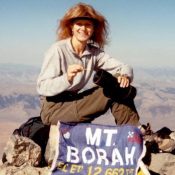 Margo Mandella is a contributor and the website's Associate Editor. Margo currently lives in Driggs, Idaho. She lived in Pocatello, Idaho for 30 years and is originally from the Midwest. She worked as an ecologist, writer, and editor, and is a strong public land proponent.
For Idaho a Climbing Guide, she has added a lot of Eastern Idaho content to the website including contributions of photos, GPS tracks, and route descriptions for peaks that are found in the book as well as peaks that are not found in the book. Perhaps more importantly, she has upgraded the quality of the entire site using her impeccable editing skills to make the text and photos more useful for climbers.
Growing up in Ohio, Margo never saw mountains except on television, let alone envision herself climbing them. In her early 20s, she lived in Bremerton, Washington and started thinking more about climbing while on hikes into the Olympic Mountains. She would see Mount Rainier every morning she commuted to college but never thought that climbing it was possible for her. It wasn't until she moved to Idaho and met folks who climbed that she voiced an interest. After two training climbs of Bonneville Peak and a lot of road bike riding, she successful climbed Mount Borah at the age of 34.
That peak became the start of the next goal, the Idaho 12ers, the tallest peaks in the Tetons, Gannett Peak and Mount Rainier. After completing those goals, she worked on Idaho peaks and introduced many of her friends to the high life. But her climbing career didn't ramp up significantly until she ventured out on an IdahoSummits Outing at the age of 49. As the first women to attend the semi-annual climbing outing, she met some of Idaho's most prolific climbers. She's been bagging peaks ever since in a vain effort to catch up to them. Since 2011, she has been joined by more-than-willing boyfriend, now husband and IACG contributor, Steve Mandella. As of 2019, they have climbed over 200 peaks together.