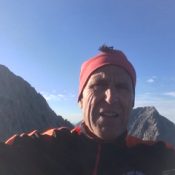 Having retired from 26 years of teaching, Neil Gleichman has picked up where he left off. Before his teaching career, he lived in Washington State where he regularly recreated in the Cascade and Olympic Ranges. He moved to Idaho in 1994 and is still in awe of the long, high, remote ranges throughout the state.
He lives in Teton Valley and has explored the Tetons and many of the Greater Yellowstone Area ranges. He considers it a bad week when seven days pass between March and November without a climb, successful or otherwise. In winter, he skis nordic trails. He is also a fair-weather cyclist.
He was a high school cross-country coach and track coach for many years and maintains his running chops, partially to keep his aging body sharp in the mountains. He has traveled extensively and enjoys reading and nurturing the trees in his yard.
He has maintained a climbing journal since 1971 and finds great joy on long approaches, route-finding challenges and technical climbing to access a summit. He appreciates Al Alvarez's idea of "feeding the rat" and always reminds us that when we get to the summit…  "We're halfway there."