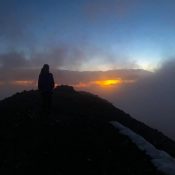 The Lemhi Range's southern crest between Diamond Peak and Saddle Mountain perfectly frames the northern horizon when viewed from almost anyplace between Idaho Falls and American Falls. This stretch of high mountains with twelve 10ers was constantly on my mind. Sometime in the last few years, I got it in my head that I should traverse the whole thing in a single push.
After some research, it appeared that this traverse had never been attempted or done. I asked Haylee Stocking if she would like to join me on the adventure and she agreed. Josh Smith heard about our plans and volunteered to provide support. His friend, Jenny I believe it is Woolstenhulme, signed on to the support team. With everything in place, we were ready to start Saturday, June 26, 2021.
We started the trip with an ascent of Diamond Peak. We reached its summit in 2 hours and 15 minutes, just in time to enjoy the sunrise.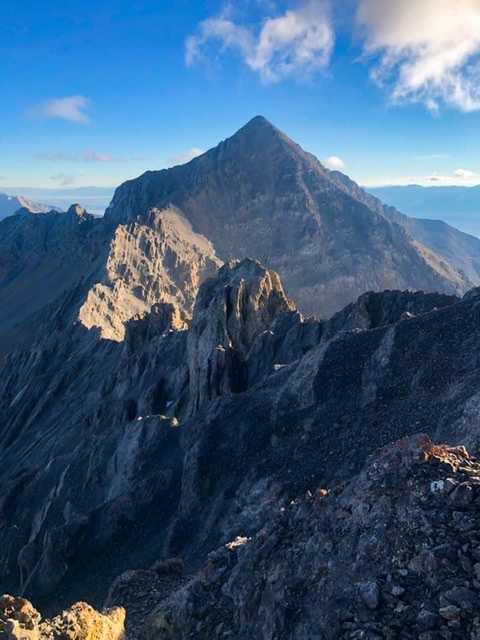 The route south from Diamond Peak has no shortage of rugged/exposed terrain to make things entertaining. The traverse from Diamond to The Riddler was my favorite section of the traverse.
The route across Big Boy, Shoshone John, and Black and White included numerous sections of knife-edge ridge walking on grippy limestone with a few places having lots of exposure.
Josh met us on Pass Creek Summit and supplied us with water and energy supplies.
South of Pass Creek Summit, the mountains just kept coming and we summited everyone of them before reaching Saddle Mountain. After refueling, our next peak was Marshalls Mount.
As the day wore on, we crossed White Bird Peak, Dome Peak, Shril Benchmark, Tyler Peak and Mount Hoopes.
The final test was Saddle Mountain. We knew this would be a test after so many hours above tree line. Our enthusiasm was bolstered because we knew that Josh had climbed Saddle Mountain earlier in the day and left us a cache of food and water. Climbing the north ridge of saddle in the dark was not physically hard with just a few Class 3 sections. However, it was psychologically taxing since we couldn't see what was above us. Neither of us had climbed Saddle before and I finished my water while climbing Tyler Peak.
Our effort progressed smoothly with the exception of our descent off of Saddle Mountain in the dark. Finishing off the day with a long tiring slog through the deadfall in Middle Canyon was a chore. Haylee told me "I felt great all day and was loving life until we hit Middle Canyon. That was hell in the dark."
After 26 hours of climbing, we reached our vehicle and feasted on cold beverages and snacks.
Final Thoughts
Our traverse was 90 percent off-trail and covered a lot of undocumented terrain. As a result, a substantial portion of the traverse involved route finding and scrambling improvised as we traveled. In total, there were three technical cruxes: the traverse between Diamond Peak and The Riddler, the exposure on the south side of Shoshone John, and  a short knife-edge between Black and White and Little Diamond. None of this was difficult climbing–just exposed scrambling on sometimes questionable rock. Josh's logistical support was essential since there was no water or snow along the route.
Haylee told me she really enjoyed her summit time and the "hardest part besides the actual climbing was not being able to stay as long as I wanted on the summits." In retrospect, the hardest part for Haylee was probably that she constantly had to wait for me. She is a powerhouse in the mountains. Haylee offers the following advice for those thinking about following our route: "Arrange a couple more aid drops so your pack is lighter which will allow you to move a little faster on the easy 'runnable' sections."
Trip Statistics
Distance: 28.15 miles
Elevation Gain: 16,491 feet
Time: 25 hours, 54 minutes, 28 seconds.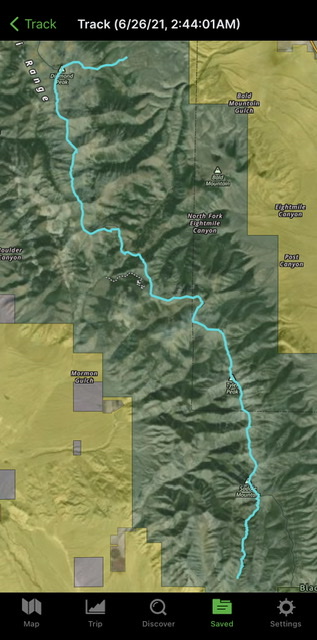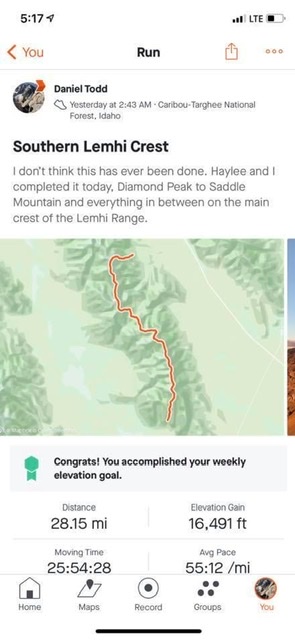 Share this post ...