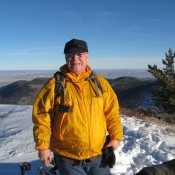 Russ Durrant is a 5th-generation Idaho native who has had the great fortune of living with some of the most scenic and wild country in the west in his backyard. Born on the banks of the Snake River in Apple Valley (Parma, Idaho) and growing up in a small farm community right on the border of Utah and Idaho, he has enjoyed the best that these two states have to offer for backcountry adventures. Russ began rock climbing when he was 16, but soon learned that his talent was on the guitar rather than 'on belay.'
Long on talk and short on actual achievements, Russ is secure in the distinction of garnering the "most unsuccessful and futile attempts on obscure and insignificant summits in Idaho history."  Russ recently accidentally broke this run of defeat when he blundered to the top of Gobblers Knob (8,091 feet), turning what would normally be a 3-4 hour turnaround jaunt into a 14-hour ordeal. He has truly taken mediocrity to unprecedented levels.
Russ is best known as the father of Matthew Durrant, to whom he loaned his ice axe, crampons and helmet a few years ago and has never seen them since. Russ keeps track of his son's (and his equipment's) activities on Idaho Summits and here on Idaho: A Climbing Guide. He gains some comfort in knowing that he will never have to clean steel for John Platt or Tom Lopez.